For twenty years, Riecken Community Libraries in Honduras and Guatemala have been sources of information and opportunity for traditionally underserved populations. With the Riecken model of sustainability at the foundation of each and every Riecken library, we find the unfailing commitment of the communities we serve to be a constant reminder of why we do the work that we do.
Riecken Community Libraries operate in communities that have handled extreme adversity for decades/centuries with resilience. With challenging times faced today – the COVID-19 pandemic, storm surges and pounding rains from Hurricane Eta flooding communities in Central and South Honduras – many libraries have closed to the public and many still remain closed or offer very limited services.
Despite the difficulties, the librarians and volunteer governing boards find creative ways to provide valuable services to their communities, such as connectivity.
COVID-19 Response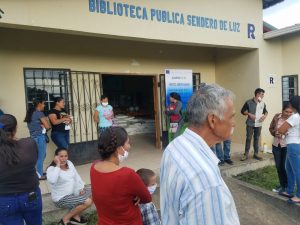 As in the rest of the world, the COVID-19 pandemic has hit Honduras and Guatemala hard. During lockdown, food was scarce, there was no work, and little or no government support. Sharing food and cooking together were encouraged in communities providing strength and some sustenance for many in dire need.
Libraries were closed, but staff worked from home maintaining critical information flow going to the communities to the extent possible. And as leaders in the community, library volunteers and staff jumped into action and were instrumental in coordination of distribution and storage of food and relief supplies.  As the pandemic wore on and some areas planned for at least partial re-opening, Riecken created comprehensive safety protocols for re-opening of the libraries once their municipalities would approve such action.
With many of the libraries still closed or offering limited services. However, here are some of the alternatives being offered in some of the Riecken libraries:
Many libraries have implemented curbside pick-up and home delivery options for loaned books and materials.
Several libraries have taken to providing online story hours to children with Internet access.
Riecken is in contract with Odilo, the online book lending platform to allow Riecken library users through the library network to borrow books through download from the library.
Many libraries continue to provide health training programs as well as storage and delivery of emergency goods for communities – food, clothing, and agricultural supplies.
Online trainings continue to complement Riecken in-person trainings for librarians and volunteers, with well attended Zoom meetings with librarians on a variety of subjects.
Hurricane Eta Response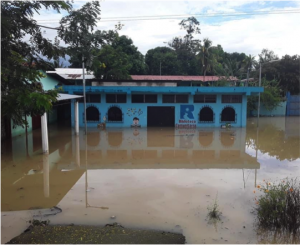 Hurricane Eta unleashed its wrath upon Central America, closely followed by Hurricane Iota, with disastrous results in the region. The Riecken La Libertad Community Library in Morales, Izabal in Guatemala is still flooded from the storm surges that ran through the Rio Motagua, inundating 500 homes in La Libertad as well.
Assessment of the damages coordinated by Riecken showed:
80% of the infrastructure is damaged: floors, walls, paint, doors, glass, bathroom, electrical system
90% of the furniture was destroyed due to high flood water levels. requiring either repair or replacement
70% of the book collection (800+ books) was lost and technology equipment was severely damaged or rendered useless
Outdoor Areas, built only a year and a half ago were flooded and destroyed
The reduction of access to the libraries and their resources because of the pandemic has been deeply felt by all in our library communities, so efforts to preserve or replace the La Libertad library's assets became a high priority for everyone.
Though not yet fully functional, we are please to say that the library has re-opened with the energy of 60 volunteers and is providing services to the community – news gladly received by all who value the role of the library in the health and well-being of the community
We are grateful for the support we've received to re-open this once vibrant library at La Libertad from our Global Giving campaign, local fund raisers, the European Union, The Riecken Foundation, and other generous donors.
Please take a moment to watch a video of the "new beginning" of the re-opened La Libertad Library! Such a testament to the resilience of the communities we serve!